culture and behavior
Gina Siebler MSc, BSc (Hons), TechIOSH
In this article, Gina Siebler, Health and Safety Advisor at Shepherds Bush Housing Group, discusses the introduction of site visits to an organization that has never had one before, and the challenges she has had to overcome during of the process.
"I come from a small organization where site visits were at the heart of health and safety management. I have always enjoyed this interaction and found that I understood better what was going on with our frontline officers by spending time talking to them. When I joined Shepherds Bush Housing Group (SBHG) in September 2020, one of the first things I implemented within the organization was a routine of on-site visits with our repairers at the location. job.
Why visit a site?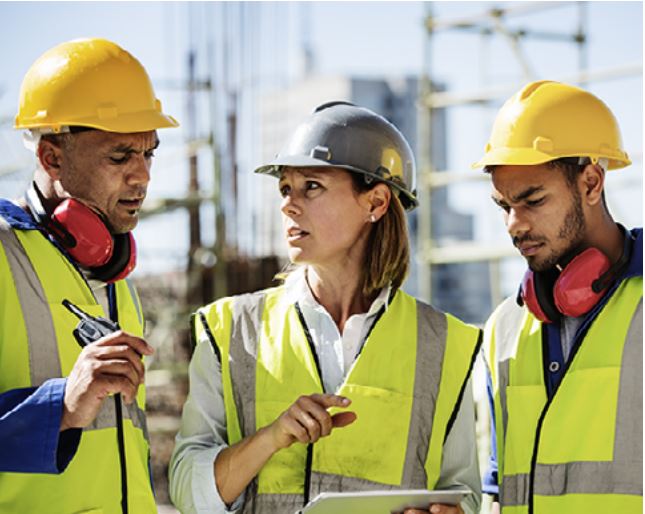 "I find that site visits have many functions. The most obvious is that I can see if the operators are working according to their method statements and following the control measures stated in the risk assessment. The other is that it helps me see if the documented processes are actually practical for our colleagues.
"I have also found them to help improve the safety culture, as they can break down the barrier between office workers and workers in the field. My technical training gives me the advantage that allows me to engage more effectively with the worker. I have been in their shoes, not specifically in their specific industry, but I have worked in the trade and I understand the challenges they face. This helps me to be compassionate with the operator which in turn makes them much more comfortable voicing their concerns and also making constructive suggestions to help improve processes.
"An example of improvement that I have implemented is the PAT testing of operator tools. During some of my visits, I observed that the officers were using specialized tools. This meant that they had fallen outside the PAT testing program. I spoke to the operations manager who, within a week, ensured that all tools, including specialized tools, were included in the program and tested.
What are the challenges that I have encountered?
"I joined SBHG within a new H&S team. A few months earlier, a new health, safety and well-being strategy had been developed and was being implemented. Prior to that, the organization had taken a less formal approach to health and safety, which presented many new challenges for both parties. No one knew what to expect!
"The first challenge was the planning phase as I had no idea how the work was booked. This meant that I had to develop stronger relationships with planners to understand how appointment scheduling worked. Every week, the day before I left, I contacted the planners and they gave me a list of potential agents that I could go to see. Not only did this improve health and safety engagement across the organization, it also gave me invaluable insight into how officers work on a day-to-day basis.
"The challenge that followed was how I was going to find the agents the day the majority of them were doing hour-long jobs on tenant properties. To counter the ever-changing agendas of agents, I always called them before I arrived to make sure they weren't delayed or reassigned. Since this whole process was new, I was unsure whether the officers would feel reassured or skeptical of my presence. These informal face-to-face meetings made operators feel at ease and also allowed operators to understand the rationale and benefits of the health, safety and welfare strategy.
How did I approach the site visit?
"I met the agent and tried to be as informal as possible. I wanted to see what they were doing and how they were working without putting the pressure on them that made them feel like they were under scrutiny. I generally followed the same structure on each site visit, which was as follows:
Objective of their current task

What were they there to do?

Risk assessment

Where I saw a risk opportunity, I dug deeper, to see if they understood the concept of a risk assessment. An example of this would normally be when chemicals have been used.

Emergency plan

What if something goes wrong? Such as the gas pipe was hit.

Waste Management

How do they get rid of their waste? Particularly dangerous waste, such as light bulbs.
"In addition to that, I would also check their mental well-being. I would ask them how they were doing during the pandemic. I would see if I could do something to help them. I would also see if they were struggling with something more. I checked that they were aware of the support that existed within the organization, such as the employee assistance program, etc.
"In general, during my site visits, I try to avoid taking notes. Distractions can lead to mishaps and note taking will put unnecessary stress on the operator as it will make him feel like he is being tested. I mean, who isn't nervous when someone is standing next to you jotting down notes you can't see while wondering what you're doing?
"One of the key goals that I focus on every site visit is to find ways that the operator can really take pride in his work and his skills, which increases his self-confidence and makes him less nervous. in front of my presence. If I observe questionable practices, then I will question them in a way that allows me to understand their thought process. If my suspicions were correct and I establish that my observation is unsafe work practices, then I will dig deeper to try and get them to review their work practices themselves.
"Site visits are also a great way to educate the operator on an informal basis. I will ask questions about their working practices, to really understand their thought process. This helps identify potential weaknesses in their understanding of health and safety issues. A recent example is where I spoke to one of the teams that uses gasoline powered tools and checked to see if they understood the required PPE for those. Both workers figured out they needed to wear the earmuffs with gasoline powered tools, but weren't sure how they would know when they would need to wear them for which tools. It was a great opportunity to educate them informally. I went through their tools and showed them how they could find out the noise each one makes, then explained the three exposure limits to them.
The result
"After each day of site visits, I would write a summary of the day which was passed on to both my supervisor and the operational supervisor. I would describe the good and bad practices observed. I would also like to detail the concerns and recommendations for improvement.
"At SBHA, we also have a honey point system, where credit is given internally when a colleague has outdone themselves on the job. For me, this Honey Points system is the perfect opportunity to reward colleagues for demonstrating safe work practices. This helps create a positive health and safety culture as they feel recognized for their work.
"Overall, the site visits received very positive feedback. There was a strange agent who felt like he was just being watched, while most felt like they had a voice. It was the perfect opportunity for the organization to have an "intermediary" who did not work directly in their team. "
Final thoughts
"In my previous role, I developed a formal approach to site visits. This involved a form that I filled out after each visit that had the same set of items to review each time. I was very familiar with the organization and each member of the team had complete confidence in my approach to health and safety, mainly because I had built the system from scratch and worked my way up through the ranks from technician to health and safety.
"At SBHA, I took a more informal approach. Our main objective was to build a positive relationship between health and safety and operators. We wanted to gain their trust so that we could work more effectively together.
"Since the completion of these site visits, there has been an increase in the direct engagement of the workforce with regards to health and safety. Agents call us if they are unsure of something, such as when they are unsure whether a job is safe. Supervisors and line managers now also include an H&S representative in the onboarding process for their new hires.
"Overall, the site visits achieved the desired result. As these continue to develop positively, I plan to formalize the process. This will allow these to become a standard, practical approach to health and safety within the organization. "
How do periods of economic growth affect workplace injuries?
In this episode of the Safety and Health Podcast, we are joined by Tanya Jenke, Managing Director of Cority Australia, who recently conducted a study analyzing over half a million workplace accidents in Western Australia between 2003 and 2019, to determine whether the economic situation growth following a period of recession has an impact on accidents at work.
Click here to listen to this episode of the Safety and Health podcast.
Related topics