Gordon Murray's tips for aspiring designers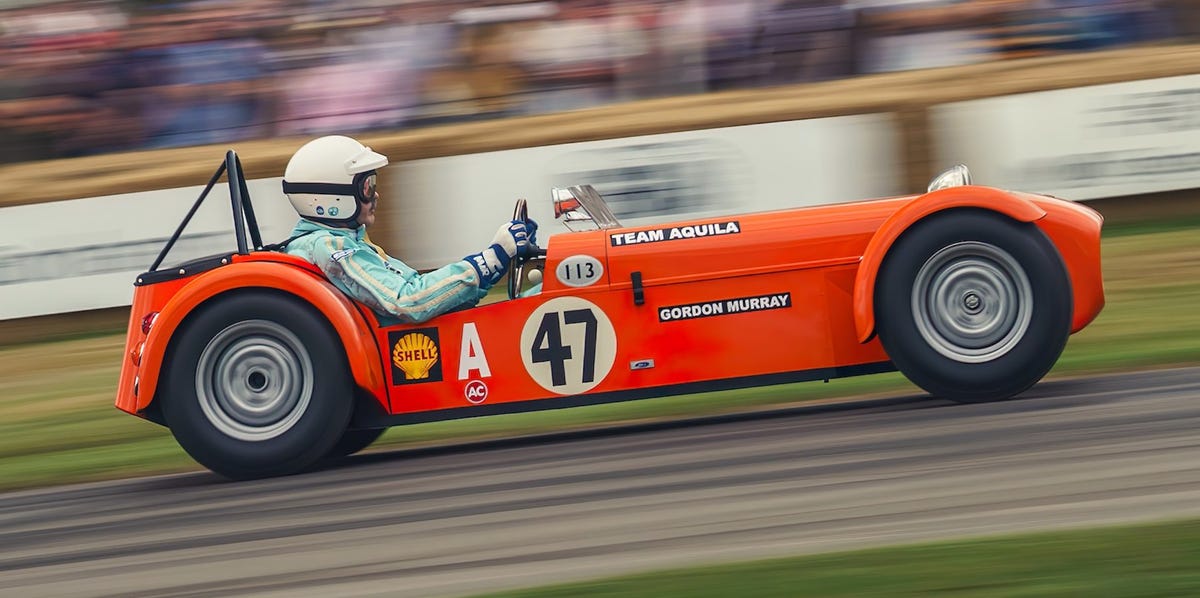 On the occasion of his 18th birthday, Gordon Murray's parents gave him a set of Wild Heerbrugg Swiss drawing instruments. From those simple tools – a pen for the lines, one for the curves, a compass, a few junk – Murray's future unfolded like a red carpet.
"And then I was away, you know," Murray says. "Once I had a drawing board at home and the instruments, I thought I was absolutely missing."
This story originally appeared in Road & Track volume 7.
SUBSCRIBE TO THE TRACK CLUB BY R&T FOR MORE EXCLUSIVE STORIES
The chrome tool set has been designed to provide a lifetime of conscientious service. And he did. Murray used them to design his first car, the T.1 (aka IGM-Ford). The Ford-powered burnt orange imp looks like a Lotus Seven, but is lighter and stiffer. Murray cut his teeth on the car, rebuilding it and polishing it up, still looking for a future in motorsport.
As a child in South Africa, Murray grew up sketching electric guitars and racing car suspensions in his notebooks. When he was 12, he got an art scholarship to study at his local college. At 16, he hand-drew a complete flat-12 engine. His parents noticed him and the little drawing game followed.
The T.1 race on the South African circuits took Murray from the abstract to the concrete. He's got a foul on an amateur weld, but he's had class wins on the Roy Hesketh circuit and elsewhere thanks to sweat fairness and careful engineering.
Long before establishing his reputation as a master designer, Murray was a young runner on a budget. He couldn't afford imported Mahle pistons for the T.1's Anglia-based 1.0-liter engine, so he made his own. With funds that only extended to a standard cast crank, it balanced reciprocating and rotating mass to the nearest tenth of a gram, creating a reliable red line at 8,500 rpm. After successfully campaigning for the car, Murray sold it and focused on the UK, the global motorsport design hub. He booked a one-way ticket and packed the Wild Heerbrugg drawing instruments. He used them to design each of his Brabham Formula 1 cars, including the championship winners. In the end, they wrote probably the best road car ever made, the McLaren F1.
From Brabham's' 70s formula cars to McLaren's role as technical director, Murray shaped the shapes that defined Formula 1 for two decades. His ideas helped evolve the sport from a steel cigar rack to the alien wings of modern F1.
Today he runs Gordon Murray Automotive (GMA), a British automaker that recently unveiled the stunning T.50 supercar. Murray runs the show but never lets his nose drift off the drawing board, styling his latest design with crayons and paper. He's also a shepherd now, guiding a new generation of designers with old-school fundamentals.
Murray, 75, implores tomorrow's automotive designers, engineers and stylists to stick to their sketchbooks throughout the design process, even though computer aided design (CAD) drives the vast majority of car development. modern cars.
"When it comes to [automotive] the components or even the furniture design, the beauty and the proportions are dead with analog designs, "says Murray. "And if you were to ask most engineers to draw a part, they would prefer you photograph them instead. "
What would he say to future designers? "Just two tips. The first is to sketch everything out, "says Murray. His second tip: get your hands dirty. Go for a run. If you can't afford it, lend a hand to your friend's Formula Ford. GMA introduces its young stylists to hands-on cross-pollination, during which machine shop workers learn CAD basics and engineers learn perfect proportions on paper.
"An apprentice technician on the shop floor will have to go through design and engineering and vice versa," says Murray. "Someone doing a graduate program will have to go down to the shop floor and learn to machine and weld, and we're finding that starting to help a bit. "
Better yet, says Murray: when young designers, engineers and stylists show up prepared.
"Many of the graduates we receive have no practical experience. the worst thing anyone can tell me is, "I played darts. And I'm going to the pub." I want to find someone who says, "I bought an old banger and took the motor apart and took it apart." Because if you are not good at design, you can improve yourself a lot by actually manipulating things.
Murray and his T.1 – well, a recreation – were reunited in 2017, when he took him up the hill at the Goodwood Festival of Speed. The little frog-eyed torpedo scampered across the tarmac, its mustached creator behind the wheel. It was a celebration of the first real pencil machine, the one that took Gordon Murray from dreamer to designer.